Huxtable, Christensen & Hood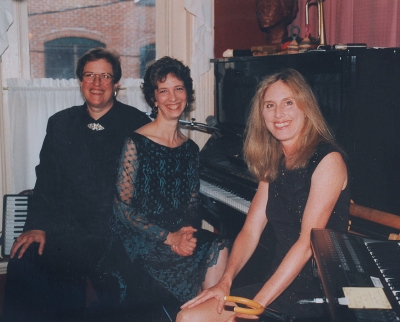 Left to Right: Liz Hood, Teresina Huxtable, Carol Christensen
Download publicity photos: This photo Alternate photo

Biography
Huxtable, Christensen, and Hood sing popular music of five centuries; including British and American traditional music, catches and rounds, music of the Renaissance, hymns, sheet music standards, doo-wop, and original songs. Their tight vocal harmonies (often a capella), and their lively and humor-filled performances have made them favorites with audiences throughout the Northeast. They accompany themselves with some combination of piano, reed organ, recorders, accordion, synthesizer, spoons and other whimsical percussion instruments.
Their first album, "Wallflowers", sadly out of print, was released by Philo Records in 1981 and reissued by Rounder in 1985. Fortunately their second recording, "Melancholy Babies", (Front Hall, 1986), is now available on CD.
No performances are scheduled at this time; we'll post any new performance dates when the information becomes available.

"One thing about a performance by Terri Huxtable, Carol Christensen and Liz Hood: You never know what to expect next." - Mike Joyce, Washington Post

Melancholy Babies

Track Listing (with RealMedia clips)



To contact the group, send an email to HCH@foolshillmusic.com
©2005 - 2012 by Teresina Huxtable

---
Web page by Valerie Magee of