Doug Irving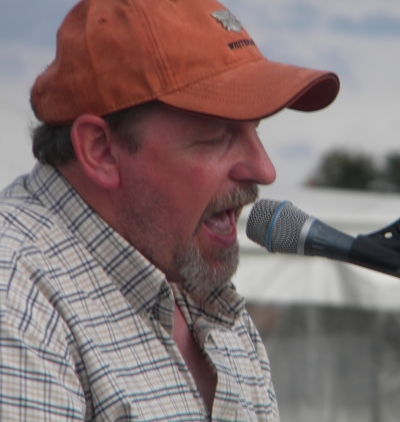 Doug Irving
Download publicity photos: This photo Alternate photo
Biography
From his early days of playing along in the living room with Herb Alpert and the TJB records, to second chair trumpet in the high school band (as a sixth-grader), music has been an integral part in the life of singer/songwriter Doug Irving. Of course trumpet gave way to guitar and piano as the creative forces started taking hold. His first composition, a ditty called "Wonderful Days", was published by a company in Pittsburgh in 1972, and the rest is history. Ten albums, two musicals, over forty independent cuts and nearly 600 songs later, songwriting and performing are center stage.
Throughout the seventies, eighties and nineties, Doug performed around the country, part of that time as lead vocalist and assistant arranger for the Air Force Band of the West in San Antonio. College really brought out his writing and he had his first taste of Broadway, attending performances of Pippin, Fiddler on the Roof and A Chorus Line in New York City. He was bitten by the Broadway bug. Hearing and learning how to write character songs later led to the writing of original musicals, The Son of Man and Moses. When the studio called, the albums were recorded; eight total to date, and the ninth currently in the works.
His songs have been recorded by numerous independent artists, 40 so far, including Mirinda James, whose recording of "A Place in my Heart" has been heard world-wide and twice garnered Song of the Year honors by the Northeast Country Music Association. Another of his songs "16 Bars" as recorded by Rick Sousley of Conroe, Texas, has also been heard in all parts of the globe, topping the country chart in Australia in 2003.
Doug spent eight years in Nashville, honing his craft, and appeared five times at the prestigious Bluebird Café. Back in New York, he has performed at the equally notable Caffè Lena in Saratoga Springs, where Bob Dylan and Woody Guthrie appeared back in the sixties and Don McLean in the seventies.
In addition to his early 2013 CD, Fire Towers and Shanties, recent CDs include his 2012 release, An Adirondack Suite, his 2013 CD Eclecticity, two 2014 CDs, The Living Soil and Morning Songs and Harbor Lights, his 2015 CD Tracks & Trails, his 2016 CD Songs of the Wood, his 2017 CD Cloud Shadows and his 2018 CD Truthville. He is also working on publishing a book of his poetry and song lyrics as well as his first novel. He continues to write, record and produce in studios around the upstate New York area and in Nashville. Below are details and some clips of his first 2013 CD; you can check out his later CDs on the Fool's Hill Music store site . Note that his most recent CDs are available as downloads too.

Fire Towers and Shanties

Track Listing (with MP3 clips)

Before Too Long
Sounds Like Goodbye
A Lake Shanty
Cumberland Road
Upper Wolfjaw Mountain Turnaround
John Speaker
Stages